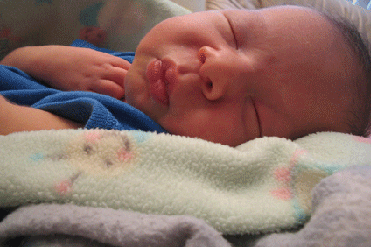 Your baby is special and your




birth announcement should be too --


with up to 12 photos & music a

BabyDisc




is a perfect way to announce your baby!
A BabyDisc is a mini disc that fits in your pocket! Unlike a website birth announcement, a BabyDisc can be kept for a lifetime. Simply place in the CD tray of your computer and the program will automatically start, with beautiful music and up to a dozen pictures of your new baby with siblings, parents and others.. Each BabyDisc comes with a color label with a picture of your baby, the date and time of birth, and baby's height and weight. They are as sturdy as music CDs and will last forever. Portable and totally self-contained, they can be viewed in computers without internet access. No computer immediately available? All of the information is written on the label, just like a regular card. After ordering your BabyDiscs, simply email your favorite pictures and a stunning birth notice will be created for you within 48 hours.

CHOOSE FROM THE FOLLOWING DESIGNS:
A soft baby blanket envelopes your baby in this unisex announcement
A soft baby blanket envelopes your baby in this unisex announcement
A soft baby blanket envelopes your baby in this unisex announcement
Traditional baby toys adorn this "All Boy" announcement in soft blues & greens
A soft baby blanket envelopes your baby in this unisex announcement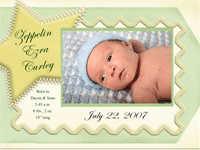 Style: Star Baby
A soft baby blanket envelopes your baby in this unisex announcement